I was undecided for a long time about whether to send out Save The Dates. Are they an American custom, really? I've certainly never received one and didn't really know much about them until I started wedding planning. I made a list of Pros and Cons, which I must have thrown away, but the general jist was something like:
Pros
Summer wedding - don't want people to book holidays
Gives people chance to book time off work
Gives out of town guests time to arrange travel etc
I really like them!
Cons
extra expense - not really needed
could do the same thing with an email or something similar
There were other things on the list, but I can't remember them at the moment. But basically, there were more pros than cons. We looked around at a few different types of STDs and decided on fridge magnets.
Now, in the world of online weddings, firdge magnets as Save The Dates seems to be a very common idea - maybe even overused? But like I said, I don't know if it's an American tradition or maybe I'm just not invited to the right weddings, but around here we don't see many Save The Dates, and certainly not fridge magnet ones! So I decided that our friends and family would be suitable impressed with the novelty of them and started shopping around for the best deal.
And that was when I first discovered VistaPrint. For anyone that hasn't found it, VistaPrint sells all sorts of custom printed products like invitations, cards, magnets, business cards, t-shirts etc etc. The list of products is endless and you can have anything you like printed onto them. And most importantly, it's excellent value for money!
I signed up for the news letter and they send me an email saying I could get half price fridge magnets. Bargain, I thought, but the day after I ordered them, they sent me an offer of free magnets, with just the postage to pay! D'oh - typical isn't it?
Anyway, I payed about £12 for 50 fridge magnets, which are the size of business cards. I chose the slowest postage, which said 21 days, but they arrived after a week. I also got 10 free thank-you cards and some address labels.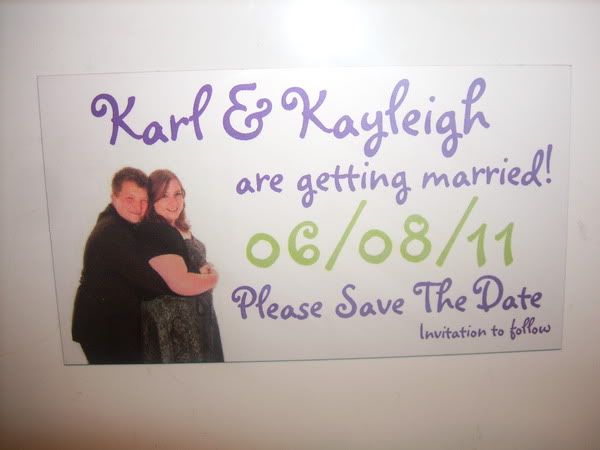 We kept the magnets nice and simple, just a small picture of us and the basic info. I didn't want them to look too cramped so I didn't bother to put the venue address or anything.
I was really impressed with the quality of the magnets - they are very thin, so they practically sit flush with the fridge, and the enitre back is a magnet, not just a small stuck on magnet. The colours and the picture came out really well and everyone we sent them to commented on how cute they were. I have loved going round to peoples houses and seing them on their fridges!
I bought some tiny green envelopes off eBay to send them in and they looked so cute! I was a bit worried that they would get lost in the post, being so small, but as far as I know, they all arrived safely.
So if you're going to use VistaPrint, I would definitely say sign up to the newsletter, deisgn your item and leave it in your basket. Within a few days you will receive an email offering you a huge discount.
While researching STDs I saw some really creative ones, from some obviously very creative people! I suppose if Save The Dates are the standard where you're from, you'd have to make more of an effort! Here are some of my favourites from the web:
From www.theflirtyguide.com
I love how fun this one is!
From www.liweddings.com








Lego! Oh my God, I love lego!
From www.anaille.blogspot.com


I really love this photobooth strip idea. I sort of wish we'd done something like this. I'm hoping we might be able to stretch to a photobooth at the wedding though!
From www.andersprinting.com


Sometimes keeping it simple can be really effective.
From www.trendsettingwedding.com


How cool are these gig ticket style Save The Dates?? I wish we were cool enough to use them! I have passed the picture along to my sister, who gets married 2 months after us. Her and her fiancé are in a band and these are much more suited to them!
From journeysofmangonett.blogpot.com


And this one speaks for it's self really!
From Martha Stewart


I think this is so original, and would look really sweet hung up somewhere.