I am having 4 bridesmaids - my friend, Christine and my 3 sisters, Kim, Kat and Kara.
And yes, before you ask, my sisters and I all have names starting with K, and so does my fiancé.
Anyway, back to the point. I have 4 bridesmaids - Kara will be 14, Kat will be 21, Christine will be 24 and Kim will be 26. So when it comes to choosing dresses I needed something suitable for both the youngest and the oldest girls.
I always wanted knee length dress for the girls, because the wedding wont be formal enough for long dresses, and none of the girls are particularly blessed in the height department (sorry, but it's true!) so floor length dresses would not be the most flattering option for them.
So we started looking on the highstreet for purple, knee length dresses as we definitely did not want to pay the prices of proper bridesmaids dresses. No more than £100 a dress, and that was an absolute maximum if it was an amazing dress.
A couple of dresses that I liked:
Debenhams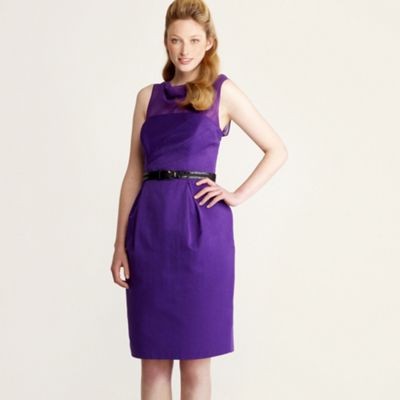 Debenhams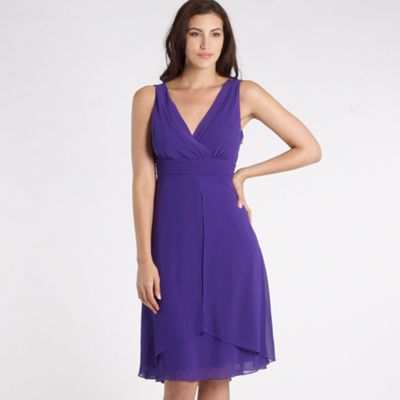 Debenhams
Monsoon
ASOS
I figured it would be easy - purple seems to be everywhere on the highstreet at the moment, and I'd seen so many gorgeous dresses, the only difficult decision was going to be choosing which one!
Unfortunately, I didn't factor in my sisters and their very conflicting ideas about what the dresses should be like.
My older sister, Kim, is a curvy girl and basically refused to have a strapless dress, or spaghetti straps, or halter neck. And she didn't want anything too clingy or tight. Fair enough. But then there's my younger sister, Kat, who is a teeny tiny petite girl and would prefer something strapless, or halter neck ad preferably slinky. Right...
To be fair, my youngest sister Kara, and my other bridesmaid Christine have been very good, and seem perfectly happy to wear whatever I choose. But I'm very aware that Kara will only be 14, so I don't want her in a strapless dress or anything too grown up.
So all that left me with only one option: a different dress for each girl.
And I'm very happy with that - I don't need them to be all matchy with the dresses, I just need them to be comfortable and happy. However, I do want the dresses to all be the same colour. Exactly the same colour.
I'd heard about
Styleshake.com
, where you can design your own dress, so I thought I'd check it out.
You can choose to design a dress, top or skirt and you start by choosing the fabric. There is silk, poly-silk, cotton and jersey. You can get lots of different colours depending on which fabric you choose.
I went for purple cotton - because it was the right shade of purple, and because the silk looked too shiny for my liking.
I was pleasantly surprised at how simple it was. You get this lovely model in her underwear, and you choose each part of the dress, step by step. You start with the upper body, choosing the style, e.g. empire line, dropped waist, natural waist etc.
You just continue, choosing the neckline, sleeves, waist panel, skirt and trimmings. So simple, and there are just enough options to give you a wide choice without being too much.
So I let my bridesmaids loose on Style Shake, giving them the instructions that their dress had to be purple cotton and knee length, and if they wanted trimmings they could be purple or white.
I have to admit, I was a little bit worried that they might come back with something horrible, but I should have trusted them more. My bridesmaids have such good taste!
Kim's dress


Kat's dress


Christine's dress


Kara's dress


Gorgeous, right? I really love each dress and I think they look amazing together. Kat gets her slinky halter neck and Kim gets her sleeves and loose skirt. Kara originally chose a one-shoulder top, but we decided it was a bit too sexy for a 14 year old, so we compromised on a halter neck, and I added an extra panel to make the neckline a tiny bit higher.
My favourite thing about these dresses? The amazing price! Kara's and Kat's are £57 each and Kim's and Christine's are £54 each. I think that's a bargain for a custom made dress!
Plus, Style Shake give 10% off on orders for bridesmaids (3 or more dresses).
I just need to order a fabric swatch to make sure it's perfect. I probably wont decide to order the actual dresses until a bit closer to the wedding, to make sure they fit right (Kim, especially, is shrinking before my very eyes!).
But seriously, I'm so impressed with my bridesmaids and their excellent taste!